Posted by: TEEBONE ®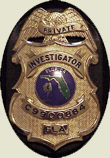 08/19/2021, 11:51:23

---
Author Profile
Mail author
Edit
VA: Albemarle County Gun Ban Vote Today
Submitted by: mark@keepandbeararms.com">Mark A. Taff
Website: http://www.marktaff.com


 
The proposed Ordinance No. 21-10 prohibits firearms, ammunition, and components in county owned or operated buildings, parks, and recreation or community centers. Though there is an exemption for firearms in private vehicles, they must be in a container or compartment, not carried while occupying the vehicle. There is also no exemption for concealed handgun permit holders. (!?) Because this ban includes "components," citizens may find themselves in legal trouble for accidentally entering one of these "gun-free zones" with something as simple as a shell casing forgotten in a pocket or accidentally left in view in a vehicle.
---
Comment by: PHORTO (8/19/2021)
At what point does a "commonsense gun-safety measure" become a rigid, unreasonable totalitarian diktat?

(rhetorical)
LIBERTY HAS NO EXPIRATION DATELiberty is paramount. Government is an afterthought.