Posted by: TEEBONE ®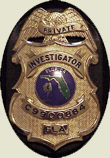 02/21/2021, 15:47:05

---
Author Profile
Mail author
Edit
Democrats' public gun registry bill blasted as 'frightening,' 'anti-police'
Submitted by: mark@keepandbeararms.com">Mark A. Taff
Website: http://www.marktaff.com


 
A Democratic-sponsored proposal to create a public gun registry poses some dangerous potential risks, including to Second Amendment rights, law enforcement officers are warning.

The bill in Congress represents a "gross intrusion on your rights and your protections," Kevin Hassett, president of the Retired Police Association of the State of New York, told Fox News.

Specifically, a public gun registry would present significant risks for retired law enforcement officers like him, Hassett warned, going so far as to deem the legislation "anti-police."
---
Comment by: PHORTO (2/21/2021)
"The enshrinement of constitutional rights necessarily takes certain policy choices off the table." - D.C. v. Heller (2008)
LIBERTY HAS NO EXPIRATION DATE