DullArmor --
The point of your message and that of the song is well taken, but my personal preference is never let it get that far.  In the song, Becky paid the price for his reluctance, not him.
Based on a few exchanges and explanations here, it is my sincere belief that if I messed with your daughter, you would kill me.  So, even if I were inclined to mess with someone's daughter, I would not choose yours.
I like the Teddy Roosevelt philosophy:  "Speak softly and carry a .357."  Well, that's close, anyhow.
This sign is posted prominently at my front gates: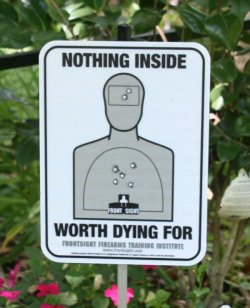 I put that up when my two granddaughters came to spend the summer with me, and liked it so much that it remains.  A while back, a boy came to pick up my granddaughter for a date.  He called her from the gates and said, "Is it all right if I come in?  I saw the sign."
I believe that boy's attitude about how to treat my granddaughter has been predetermined.  Sometimes it's better that way.
Take care,
Russ