Posted by: TEEBONE ®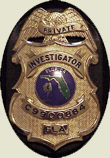 09/10/2020, 14:53:00

---
Author Profile
Mail author
Edit
VA: Herring joins in amicus brief defending ability of states to enact gun safety laws
Submitted by: mark@keepandbeararms.com">Mark A. Taff
Website: http://www.marktaff.com


 
Attorney General Mark R. Herring has joined a group of 18 state attorneys general to defend the ability of states to enact gun safety laws that protect public safety and reduce the prevalence and lethality of gun violence.

Herring and his colleagues filed an amicus brief today in the Court of Appeals for the Ninth Circuit in Duncan v. Bacerra, a lawsuit filed by California gun owners and an NRA affiliate challenging California's ban on high-capacity magazines that hold more than 10 rounds of ammunition.
---
Comment by: PHORTO (9/10/2020)
His political opposition in the next election should hang the following moniker around his neck:

"Red Herring"
LIBERTY HAS NO EXPIRATION DATE
Democrats wouldn't buy a clue if it was government subsidized.