Klayman: President Is Right: Lewis Did Good Early With MLK but Turned Into an Anti-White Racist Like Sharpton and Farrakhan in Later Life!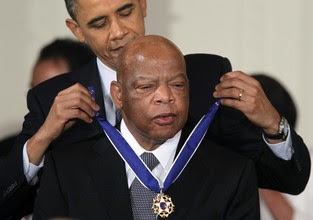 The Independent
July 28, 2020
Donald Trump, who in recent weeks has stirred racial tensions, says he has no plans to visit the late Congressman John Lewis as the civil rights icon lies in state at the US Capitol.

"No I won't be going," the president said. "No."

The president delivered the news as he left the White House for a trip to North Carolina. As he took reporters' questions, Mr Lewis' casket had just arrived at the Capitol, where a military honour guard carried his American-flag draped casket up the white stairs and into the rotunda.