Posted by: TEEBONE ®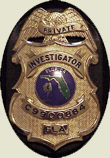 07/25/2020, 17:42:50

---
Author Profile
Mail author
Edit
TX: Naked Man Walks Into Texas Woman's Apartment, She Shoots Him in 'Lower Extremities'
Submitted by: mark@keepandbeararms.com">Mark A. Taff
Website: http://www.marktaff.com




 
Some might say this sounds like a Florida Man story, but it really happened in Port Arthur, Texas. A buck naked man forced his way into a woman's apartment at the Avery Trace apartments. When he failed to leave when asked, she shot him – in his "lower extremities."

Readers can feel free to imagine the actual anatomic location of the gunshot wound. Fortunately for the intruder, the wound was described as non-life threatening. Nevertheless, it probably hurt and likely won't buff out. Not right away.



LIBERTY HAS NO EXPIRATION DATEDemocrats wouldn't buy a clue if it was government subsidized.

Modified by TEEBONE at Sat, Jul 25, 2020, 17:43:45