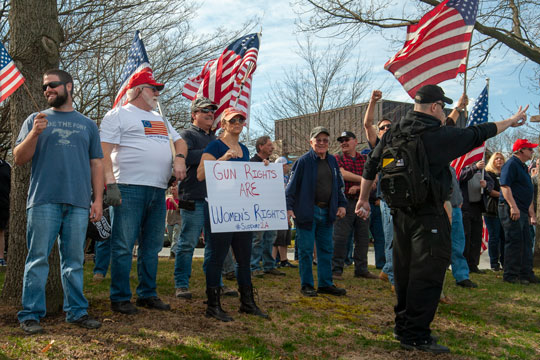 Leah Hoopes, of Bethel Township, holds a sign expressing her views.
A group of an estimated 80 people — many armed — rallied in support of the Second Amendment at state Rep. Stephen Barrar's Concord Township office Friday afternoon.  According to Barrar, the rally was initially called for by two "anti-gun" groups but members of those groups failed to show.
"I'm disappointed they didn't make it," Barrar said. "I wanted them to hear gun owners' opinions on the Second Amendment. ... The other side didn't show up. I guess they didn't want a debate."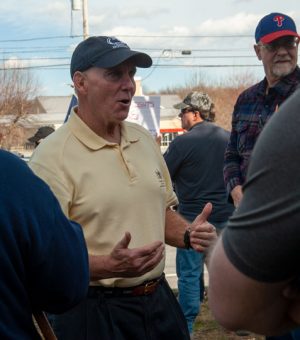 Barrar is retiring from office at the end of this year and he told the group that the two Democrats who are after his seat (Anton Andrew and Cathy Spahr, whom Barrar did not name) are "extremely anti Second Amendment. We need an army to stand up against them. I can't do it and Harrisburg won't."
Leah Hoopes, of Bethel Township, one of the organizers of the pro Right to Keep and Bear Arms assembly, said she got people together after Barrar called her to have their side represented, thinking the groups Gun Sense and Delaware County United for Sensible Gun Policy would be protesting Barrar's position on Red Flag Laws.
Hoopes said she and the others support Barrar's position that Red Flag laws are unconstitutional. Those laws permit police to take firearms away from people who a family member claims might be a danger to themselves or others.
During a brief interview, Barrar said he absolutely believes such laws are unconstitutional.
"They take away rights from people who haven't committed a crime," he said.
Dan McMonigle, of Firearms Owners Against Crime, said Red Flag laws are an issue for him and other members and is concerned about Republicans such as state Sen. Tom Killion who supports those laws.
"We hope he changes his mind, but we don't think he will," McMonigle said. "The moms from Moms Demand Action support him but the dads have given up on him."
Val Biancaniello, of Marple, a self-described constitutional conservative, said she was there to offset the groups that didn't show.
"It's distressing that any group would threaten the Second Amendment and impose Red Flag laws and interfere with the right to bear arms," she said.
While many of the people at the rally called themselves constitutional conservatives and wore pro-Trump garb such as MAGA hats, not everyone fit that category.
Kyle Burton, of Marple, attended. Last Saturday he was re-elected to be treasurer of the Libertarian Party of Pennsylvania. "I'll work with anyone regardless of party, race or gender who want to protect the natural right to self-defense."