Posted by: TEEBONE ®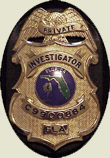 02/12/2020, 10:44:28

---
Author Profile
Mail author
Edit
ATF: Criminals exploiting Alabama Gun Laws
Submitted by: David Williamson
Website: http://libertyparkpress.com


 
The Bureau of Alcohol, Tobacco and Firearms says Alabama is an easy target for criminals to get a gun. For years, we've told you about the stolen gun problems in Mobile, including last year's police campaign telling legal gun owners to lock up their weapons.
---
Comment by: PHORTO (2/12/2020)
Why, the very thought of it!

People selling legal, PROTECTED items to each other w/o Big Brother's nose in the middle of the transaction.

Hmnph.

This 'liberty' thing isn't all it's cracked up to be, apparently.
LIBERTY HAS NO EXPIRATION DATE
Democrats wouldn't buy a clue if it was government subsidized.