Posted by: TEEBONE ®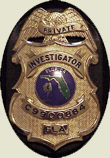 01/11/2020, 11:02:58

---
Author Profile
Mail author
Edit
VA: Democrat says Second Amendment supporters in Virginia have 'mental issues'
Submitted by: mark@keepandbeararms.com">Mark A. Taff
Website: http://www.marktaff.com




 
A Virginia state senator called Second Amendment supporters "little kids" at a public meeting over the weekend as tensions between gun rights activists boil over in the state.

Sen. Dave Marsden, who supports Democratic presidential candidate Pete Buttigieg, is an advocate of proposed gun control legislation and is part of the Democratic majority in the Virginia General Assembly. Instead of apologizing for the insensitive remarks, Marsden called Second Amendment supporters "mentally ill" in a letter he sent following a meeting with constituents.
---
Comment by: PHORTO (1/11/2020)
What obnoxious hubris.

Pay attention, people. This is the tack the Soviets took - weaponizing psychiatry to suppress political dissent and curtail liberty.

This idiot doesn't even realize the Stalinist impression he presents.
LIBERTY HAS NO EXPIRATION DATE
Democrats wouldn't buy a clue if it was government subsidized.