Posted by: TEEBONE ®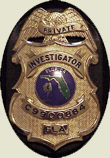 01/10/2020, 13:58:39

---
Author Profile
Mail author
Edit
---
Comment by: PHORTO (1/10/2020)
"Curtis had said on Monday she felt some proposed bills went a bit too far with restricting citizens rights."

A 'bit' too far?

What does this phrase mean to you? "...shall not be infringed."

'Not a lot of room there. In fact, according to the Second Amendment, there is NO room at all.

Not even a 'bit'.
LIBERTY HAS NO EXPIRATION DATE
Democrats wouldn't buy a clue if it was government subsidized.