Posted by: TEEBONE ®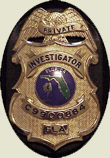 01/07/2020, 15:48:47

---
Author Profile
Mail author
Edit
New for 2020: SCCY Firearms DVG-1
Submitted by: David Williamson
Website: http://libertyparkpress.com




 
Following on the heels of its rollout of the CPX-4 and an all-new CPX Red Dot lineup, SCCY Firearms announced the launch of an entirely new handgun design in its DVG-1. Initially, SCCY offerings featured a line of hammer-fired guns under the CPX moniker, available in a number of popular calibers and frame colors. However, the hammer-fired design incorporated a long, heavy, double-action trigger pull that measures about 9 lbs. To provide handgun enthusiasts with a better trigger pull and an improved shooting experience, the company developed its DVG-1 with a striker-fired design complete with a trigger pull that weighs in at 5.5 lbs., which is comparable to other striker-fired options on the market.



LIBERTY HAS NO EXPIRATION DATEDemocrats wouldn't buy a clue if it was government subsidized.

Modified by TEEBONE at Tue, Jan 07, 2020, 15:52:59