Posted by: TEEBONE ®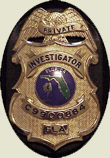 01/06/2020, 15:21:02

---
Author Profile
Mail author
Edit
KY: Marshall County Postpones "Second Amendment Sanctuary" Ordinance Vote
Submitted by: David Williamson
Website: http://libertyparkpress.com


 
A scheduled vote for an ordinance that would make Marshall County a "Second Amendment Sanctuary" has been postponed. Judge/Executive Kevin Neal in a published letter said the vote was canceled in order to make revisions to the ordinance. He said in the letter he traveled to Frankfort on Friday with Marshall County Sheriff Eddie McGuire to meet with Attorney General Daniel Cameron.
---
Comment by: PHORTO (1/6/2020)
So, the county poltroons traveled to the capital to brown nose and return with a toothless 'resolution'.

Not impressed.
LIBERTY HAS NO EXPIRATION DATE
Democrats wouldn't buy a clue if it was government subsidized.