Posted by: TEEBONE ®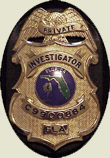 01/01/2020, 18:40:07

---
Author Profile
Mail author
Edit
---
Comment by: PHORTO (1/1/2020)
"The underlying issue is not that we need to have more guns because they're safer. If there is a bad guy you can, but the problem is bad guys are coming in with these guns," said Tracey.

This woman is an idiot. That sentence makes no sense whatsoever.
LIBERTY HAS NO EXPIRATION DATE
Democrats wouldn't buy a clue if it was government subsidized.