Posted by: TEEBONE ®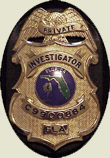 12/02/2019, 10:30:11

---
Author Profile
Mail author
Edit
CA: Gun Control a Key Issue in San Diego City Attorney's Race
Submitted by: David Williamson
Website: http://libertyparkpress.com


 
Gun control legislation has become a hot topic in the race for San Diego city attorney, with challenger Cory Briggs criticizing incumbent Mara Elliott for spearheading the city's new law requiring safe storage of firearms. Briggs, a local private sector attorney who frequently sues the city, says it's inappropriate for Elliott to be a policy maker when the city charter limits her role to vetting legislation approved by the mayor and City Council.

---
Comment by: PHORTO (12/2/2019)
"This is a public safety crisis because we have an epidemic of gun violence."

A poll-tested piece of disinformation.

There is no "public safety crisis" and no "epidemic of gun violence."

Statistics don't lie, but Democrats do.
LIBERTY HAS NO EXPIRATION DATE
Democrats wouldn't buy a clue if it was government subsidized.