Posted by: TEEBONE ®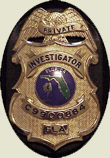 11/05/2019, 10:00:31

---
Author Profile
Mail author
Edit
---
Comment by: PHORTO (11/5/2019)
Logic-challenged.

What makes Cub think that a miscreant bent on shooting people won't walk in 'open' carrying? The answer is self-evident - he will. So, then...

...what does banning law-abiding people from open-carrying accomplish? Making snowflakes f-e-e-e-e-l good?

NOT a good reason.

Idiotic.
LIBERTY HAS NO EXPIRATION DATE
Democrats wouldn't buy a clue if it was government subsidized.