Posted by: TEEBONE ®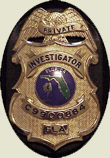 11/01/2019, 18:53:31

---
Author Profile
Mail author
Edit
NY: NRA spars with New York AG over subpoena of its former ad agency
Submitted by: mark@keepandbeararms.com">Mark A. Taff
Website: http://www.marktaff.com


 
The National Rifle Association and the New York attorney general's office squared off in a Manhattan court over whether the gun-rights organization has the power to prevent state investigators from seeing documents subpoenaed from its former advertising agency.

New York Attorney General Letitia James is investigating the NRA's nonprofit status after a leadership clash at the organization led to internal allegations of self-dealing, a claim the NRA has denied.
---
Comment by: PHORTO (11/1/2019)
'Doesn't matter what the judge says. NRA should say "No-no Loosie you cehn't. NYA-NYA!! *pthlbpthlbpthlbpthlbpthlbp!*"
LIBERTY HAS NO EXPIRATION DATE
Democrats wouldn't buy a clue if it was government subsidized.