Posted by: TEEBONE ®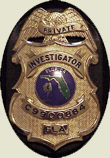 10/28/2019, 11:15:04

---
Author Profile
Mail author
Edit
OR: Update - Photos / Structure Fire: Flames destroy local rifle barrel plant
Submitted by: coreysalo@yahoo.com">Corey Salo



 
Harbor Fire intern Chief Thomas Sorrentino said the cause of the plant fire remains under investigation.

"Thirty-five years of my life went up in this fire," Chris Dichter said.

Dichter is the owner of the Pac-Nor Barreling plant, at 99299 Overlook Road in Brookings and the adjacent 10 acre property. The plant manufactures precision rifle barrels.

Dichter made the comment as he watched flames rolling through the plant, which sits in a wooded area just east of Highway 101.

A heavy black and gray plume from the plant fire, Wednesday morning, Oct. 23, could be seen from the surrounding area.




---
Comment by: PHORTO (10/28/2019)
Personally, I blame the Wiccans.

[smirk]
LIBERTY HAS NO EXPIRATION DATE
Democrats wouldn't buy a clue if it was government subsidized.