Posted by: TEEBONE ®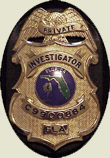 10/04/2019, 10:41:56

---
Author Profile
Mail author
Edit
MD: Alternative Fact of the Week: Joe Biden 'triggers' Donald Trump
Submitted by: mark@keepandbeararms.com">Mark A. Taff
Website: http://www.marktaff.com


 
Of all the alternative facts Mr. Trump and his toadies (a term now inapplicable to Rudolph W. Giuliani who has fallen from toady to treasonous lick-spittle) have rustled up to change the topic from the presidential corruption, abuse of power and subsequent cover-up, this attack on Mr. Biden's gun plan might be the most shameless. And that's saying something considering the ongoing effort to portray Hunter Biden as Public Enemy No. 1 instead of just another political insider beneficiary of nepotism. Among the Democrats running for president, Mr. Biden's gun plan is unexceptional. Opponents like Elizabeth Warren, Cory Booker and Beto O'Rourke have gone further with provisions like mandatory gun buybacks and federal licensing.
LIBERTY HAS NO EXPIRATION DATE
Democrats wouldn't buy a clue if it was government subsidized.