Posted by: TEEBONE ģ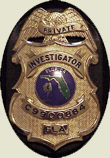 09/28/2019, 12:50:10

---
Author Profile
Mail author
Edit
Background Checks Do Not Infringe on Our Rights
Submitted by:†mark@keepandbeararms.com">Mark A. Taff
Website:†http://www.marktaff.com


†
In his Sept. 18 column, Dave Skinner once again missed the mark. With his all too common complaint about how the federal government canít do anything right, Mr. Skinner now targets firearm background checks. Rather than celebrate that background checks kept 181,000 firearms from being sold to criminals last year he lambasts the federal government for not prosecuting the offenders.
†
---
Comment by:†PHORTO†(9/28/2019)
No comment provision on that site.

The writer thinks that if a constitutional violation that doesn't bother him is so small as to be no big deal, he needs a good smack.

There is no, like ZERO, authority delegated to the federal government in the Constitution to regulate private sales of firearms or anything else.

If he wants his state to enact them and it doesn't violate its own constitution, well, have at it.

But at least know WTF is happening, and why or why not.
LIBERTY HAS NO EXPIRATION DATE
Democrats wouldn't buy a clue if it was government subsidized.