Posted by: TEEBONE ®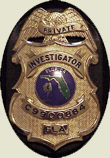 08/28/2019, 18:23:57

---
Author Profile
Mail author
Edit
MI: Six arrested in recent gun store robbery in Saginaw Township
Submitted by: coreysalo@yahoo.com">Corey Salo



 
Police said they have arrested several people and expect to arrest several more in connection with a gun store robbery that occurred earlier this month in Saginaw County.

Sometime Aug. 1, or early the prior morning, several individuals broke into Showtime Guns & Ammo Sales, 3621 Bay Rd., and stole firearms, according to police.

Surveillance cameras captured video of the culprits.

On Tuesday, Aug. 27, Michigan State Police and several federal and local law enforcement agencies served five search warrants throughout Saginaw County.

According to MSP Lt. David Kaiser, six guns believed to have been stolen from the gun store were recovered.

Five adults and one juvenile were arrested with several more arrests expected, Kaiser said.
---
Comment by: PHORTO (8/28/2019)
The perfect punishment would be to make them clean Hillary's toilet, right after she uses it!
LIBERTY HAS NO EXPIRATION DATE
Democrats wouldn't buy a clue if it was government subsidized.