Posted by: TEEBONE ®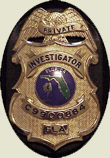 08/28/2019, 12:29:17

---
Author Profile
Mail author
Edit
OH: Roselawn Shooting Suspect Claims Self-Defense
Submitted by: David Williamson
Website: http://libertyparkpress.com


 
A man accused of shooting another man in the buttocks in Roselawn claims the shooting was self-defense. Ryan Riffle faced a charge of felonious assault in court Tuesday. According to court papers, police were called to Reading Road near Section Road on Sunday for a report of a shooting. They found the victim in the grass suffering from two gunshot wounds.
---
Comment by: PHORTO (8/28/2019)
If he chased the dirtball down the street and popped two into his butt, at that point he ceased to be the victim and became the aggressor.
LIBERTY HAS NO EXPIRATION DATE
Democrats wouldn't buy a clue if it was government subsidized.