Posted by: TEEBONE ®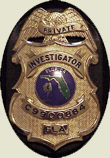 08/28/2019, 11:48:14

---
Author Profile
Mail author
Edit
---
Comment by: PHORTO (8/28/2019)
Ducey is no different than the others on "red flag". Notice how he dances around due process - they ALL do. To them, ex parte with a full hearing later satisfies due process.

But it doesn't. When what's at stake is the denial of a fundamental right, a full adversarial hearing is mandatory BEFORE any rights are suspended. Although it is technically a civil action, when the consequences are indistinguishable from those imposed by a criminal action 6th Amendment guarantees must be included.

If the current scheme were extrapolated to its extreme, the state could execute people first and hold the trial later.

Which, of course, is ridiculous.
LIBERTY HAS NO EXPIRATION DATE
Democrats wouldn't buy a clue if it was government subsidized.