Posted by: TEEBONE ®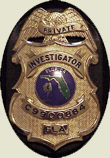 08/27/2019, 10:45:12

---
Author Profile
Mail author
Edit
---
Comment by: PHORTO (8/27/2019)
What utter poppycock.

She blames McGlockton's death on SYG, yet SYG did not prevent the correct verdict. Indeed, SYG did not prevent the shooter from coming to trial.

In an inept burst of emotionalism, she defeats her own argument.
LIBERTY HAS NO EXPIRATION DATE
Democrats wouldn't buy a clue if it was government subsidized.