Posted by: TEEBONE ®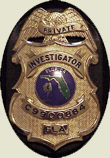 06/05/2019, 15:20:15

---
Author Profile
Mail author
Edit
AL: Bullet and Barrel Not Your Typical Gun Store
Submitted by: David Williamson
Website: http://libertyparkpress.com




 
The people behind the counters at Bullet and Barrel in Huntsville are trying to redefine what a shooting-range experience is supposed to be by creating an environment that takes into account aesthetics, services and a personal touch. Behind the counter, sales manager Alberto Lavizzari looks over some of the firearms the store has in stock with Jeff White, an RSO at the range.
LIBERTY HAS NO EXPIRATION DATE
Democrats wouldn't buy a clue if it was government subsidized.