Posted by: TEEBONE ®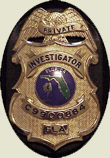 05/29/2019, 16:07:18

---
Author Profile
Mail author
Edit
NJ: Murphy Holds Roundtable on Guns After Weekend Shooting in Trenton
Submitted by: David Williamson
Website: http://libertyparkpress.com


 
Early Saturday morning two men shot 10 people, five men and five women, in a drive-by outside a bar and liquor store in Trenton. Two days later, five people were wounded and one died in another shooting in the capitol city. By coincidence, Gov. Phil Murphy had a gun control roundtable scheduled for Tuesday afternoon. Around the table sat urban mayors, legislators and gun control activists. The governor pledged state and federal assets to assist the city and bemoaned the lax laws in other states that allow a flood of handguns into New Jersey.


---
Comment by: PHORTO (5/29/2019)
Murphy is an anti-constitution, anti-liberty statist pig.

The State of New Jersey is full of imbeciles. I mean, LOOK who they vote for!
LIBERTY HAS NO EXPIRATION DATE
Democrats wouldn't buy a clue if it was government subsidized.