Posted by: TEEBONE ®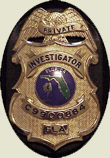 04/12/2019, 14:57:03

---
Author Profile
Mail author
Edit
CA: Gun groups: Million-plus extended magazines flood California
Submitted by: mark@keepandbeararms.com">Mark A. Taff
Website: http://www.marktaff.com


 
"Everything was all sold out. I basically took whatever I could get," said Chris Puehse, who owns Foothill Ammo in Shingle Springs, east of Sacramento.

He fielded dozens of telephone calls while buyers stacked up 20 deep in his one-man store to buy the hundreds of magazines that arrived in two shipments last week. He had just six left by the time Benitez reinstated the ban last Friday.

"People loved it. It was like we were out of prison and were not treated like bastard stepchildren of the country anymore," he said.
---
Comment by: PHORTO (4/12/2019)
Tsk-tsk-tsk.... That natural law thingy is a real BIYATCH, wot?

[smirk]
LIBERTY HAS NO EXPIRATION DATE
Democrats wouldn't buy a clue if it was government subsidized.