Posted by: TEEBONE ®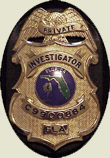 03/11/2019, 14:54:56

---
Author Profile
Mail author
Edit
MD: Maryland Democratic Leader Calls For Doxxing Of Gun Rights Activist "Terrorists"
Submitted by: David Williamson
Website: http://libertyparkpress.com


 
It seems like just the other day when I was writing about how the moderate Republican Governor of Maryland was at least partially succeeding in curbing some of the more rabidly liberal impulses of the Democrats in his state. (Oh, that's right. It actually was just the other day.) As it turns out, not all of the Democrats have been embracing the cross-party goodness, however. The NRA Institute for Legislative Action (NRA-ILA) documents some of the comments put forward by the Maryland Democratic Party Secretary this month, and he's not exactly taking that whole bipartisan spirit to heart, at least when it comes to the Second Amendment rights of his state's citizens.
---
Comment by: PHORTO (3/11/2019)
Of COURSE he does. It's one of the Rules for Radicals.




LIBERTY HAS NO EXPIRATION DATEDemocrats wouldn't buy a clue if it was government subsidized.

Modified by TEEBONE at Mon, Mar 11, 2019, 16:11:48