Posted by: TEEBONE Ū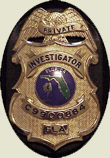 03/06/2019, 10:56:31

---
Author Profile
Mail author
Edit
---
Comment by: PHORTO (3/6/2019)
"non-licensed firearm dealers"

Why do these turds keep getting away with this disingenuous misrepresentation of private sales?

A person who sells a firearm to another but is not engaged in the BUSINESS of selling firearms is NOT a dealer, licensed or otherwise.

They need to be called out on this blatant lie.
LIBERTY HAS NO EXPIRATION DATE
Democrats wouldn't buy a clue if it was government subsidized.