Posted by: TEEBONE ®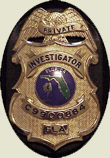 02/09/2019, 11:44:36

---
Author Profile
Mail author
Edit
IN: Former Indiana officer pleads guilty to animal cruelty after K-9 found frozen to death in trash bag
Submitted by: jac





 
FRANKLIN COUNTY, Ind. - A former Indiana police officer pleaded guilty to animal cruelty after his K-9 partner was found frozen to death in a trash bag, according to WWLT. 

The former officer, Clinton Ellis, reached a plea agreement this week in the death of his K-9, Blade. 

Other reports show that Blade's ribs could be seen from how skinny he had gotten. 

On Tuesday, Ellis pleaded guilty to one count of striking or interfering with a law enforcement animal and one count of animal cruelty. On Thursday, he was sentenced to a year in jail, with 311 of those days suspended. 

Submitters note: 54 days in jail. Should have been 54 months.
LIBERTY HAS NO EXPIRATION DATE
Democrats wouldn't buy a clue if it was government subsidized.