Posted by: TEEBONE ®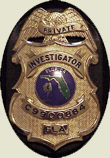 01/11/2019, 13:27:02

---
Author Profile
Mail author
Edit
Gun confiscation SWATing: Red flag laws go national
Submitted by: mark@keepandbeararms.com">Mark A. Taff
Website: http://www.marktaff.com




 
A Video from attorney Alex Kincaid makes the crucial point that laws for involuntary civil commitment already take of the issue addressed by so-called 'Red Flag' laws.

So-called 'Red Flag' laws or 'Extreme Risk Protection Orders' are all the rage in the far left's gun confiscation agenda. A new video from attorney Alex Kincaid points out that there are already laws on the books to cover situations such as the Parkland mass murderer. That 'Every state in this country already has a set of laws that allow law enforcement to take away firearms from people by civilly committing them'.
LIBERTY HAS NO EXPIRATION DATE
Democrats wouldn't buy a clue if it was government subsidized.