Posted by: TEEBONE ®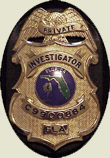 12/05/2018, 13:35:31

---
Author Profile
Mail author
Edit
---
Comment by: PHORTO (12/5/2018)
Ridiculous. Toy guns' authenticity has already been blasphemed by mandating an orange tip on the end of the barrel.

That's enough to defang this 'issue'.

Let's stop with cowering in the corner whenever some malcontent whines about guns, even toy ones.
LIBERTY HAS NO EXPIRATION DATE
Democrats wouldn't buy a clue if it was government subsidized.