Posted by: TEEBONE ®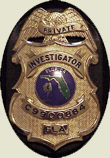 12/02/2017, 16:09:10

---
Author Profile
Mail author
Edit
CA: DOJ Submits Proposed Ammunition Vendor Licensing Regulations to the Office of Administrative Law
Submitted by:

Website: http://www.marktaff.com

 
On Friday, December 1, the California Department of Justice, Bureau of Firearms ("DOJ") submitted its proposed regulations regarding the issuance of ammunition vendor licenses to the Office of Administrative Law ("OAL") for review, regulations which are substantively unchanged from DOJ's original proposal from July 14, 2017.

California law required DOJ to have implemented these regulations no later than July 1, 2017. This is because beginning January 1, 2018, almost all ammunition sales in California must be processed by or through a licensed ammunition vendor or California licensed firearms dealer.
LIBERTY HAS NO EXPIRATION DATE
Democrats wouldn't buy a clue if it was government subsidized.