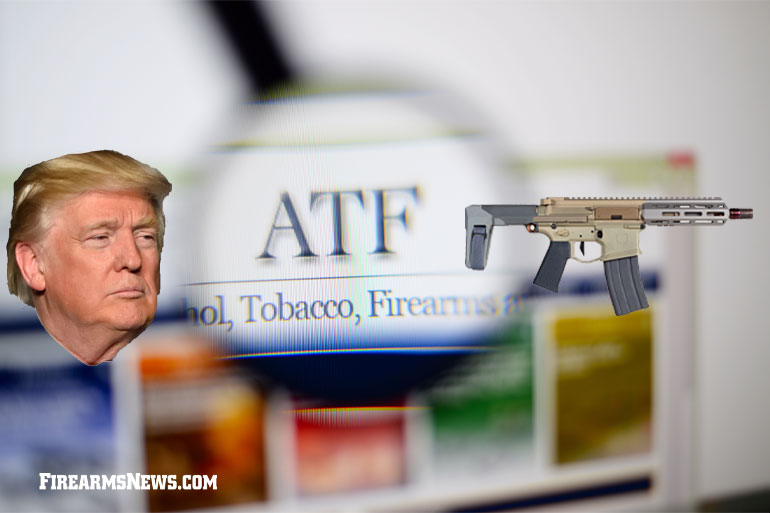 The Bureau of Alcohol, Tobacco, Firearms and Explosives ('ATF') recently informed firearm manufacturer Q, LLC that, in ATF's view, Q's 'Honey Badger' pistol with stabilizing brace is actually a short-barreled rifle and therefore subject to the National Firearms Act ('NFA'), the National Rifle Association Institute for Legislative Action noted in an Oct. 6 alert asking members to take action by contacting the Department of Justice. "Since 2012, ATF has repeatedly found that firearms with pistol stabilizing braces, like the one equipped on Q's Honey Badger pistol, are not 'designed, made, and intended to be fired from the shoulder,' and are therefore not subject to regulation under the NFA. Now, with no notice or opportunity for public input, ATF appears to be reversing course."
NRA directed members to a notice from Q, LLC that explained the "cease and desist" letter ATF had sent the company in August, with instructions emphasized in bold-case ordering the company to:
Cease and desist all manufacture and transfer of the "Honey Badger Pistol" firearm unless you properly register each firearm manufactured on an ATF Form 2 as required by the NFA, and file the appropriate ATF Form prior to the transfer.
Contact ATF to develop a plan for addressing those firearms already distributed…
Provide a sample of the Sugar Weasel and Mini Fix firearms to ATF for an official clarification…
Just to make sure everyone was clear they were telling, not asking, ATF warned of consequences if they weren't promptly obeyed:
"Your failure to take the above steps may result in (1) law enforcement action by ATF, including a referral of this matter to the United States Attorney' Office for criminal prosecution; (2) tax assessment and collection; and/or (3) seizure and forfeiture of the firearms and property involved in violations of Federal law."
Boston Field Division Special Agent in Charge Kelly Brady didn't even think highly enough of the subjects he was threatening to sign the order himself but assigned that to an underling. When projecting unopposable power, it pays to be arrogant.
For its part, "Q has ceased all production of the Honey Badger Pistol, and submitted a comprehensive letter to ATF and the Department of Justice ('DOJ') stating why we disagree with this classification." With no "definitive guidance from ATF" received, they provided "proactive measures" to Honey Badger Pistol possessors on steps needed to avoid criminal charges.
Additionally, on its Facebook page, the company has advised owners "If you choose to Form 1 your Honey Badger Pistol, Q will refund your $200 tax. Why? Because you're f-ing awesome."
"Years after approving pistol braces and determining that a brace does not make a pistol into an SBR, rumors started to swirl that ATF was planning to reclassify these particular pistols into SBRs," Gun Owners of America alerted its members. GOA pointed out a connection to a "diabolical" 2018 push by the Giffords gun-grab group to outlaw not only pistol braces, but .50 caliber ammunition, certain handguns, and the Mossberg Shockwave for close to two years.
Instead of contacting DOJ, GOA asks members to "contact President Trump and let him know that you are counting on him to put a stop to this new ATF overreach and order them to reinstate the Honey Badger Pistol's status as a pistol equipped with a brace. Then, contact your member of Congress and insist that they cosponsor H.R. 5289, The Home Defense and Competitive Shooting Act.

"[F]irearms owners would no longer be forced to figure out barrel length or determine if their firearm had a brace or a butt stock," GOA explained. "Despite its lengthy name, H.R. 5289 will change federal law and allow SBRs to be bought and sold just like any other rifle. In short, H.R. 5289 removes SBRs from the provisions of the NFA.
"The sad reality is that if Congress would do its job and pass legislation such as H.R. 5289, The Home Defense and Competitive Shooting Act, firearms owners would no longer be forced to figure out barrel length or determine if their firearm had a brace or a butt stock," GOA concluded. "Despite its lengthy name, H.R. 5289 will change federal law and allow SBRs to be bought and sold just like any other rifle. In short, H.R. 5289 removes SBRs from the provisions of the NFA.
The Backstory
That GOA asks members to contact Trump instead of the DOJ is an effort to remind the president that his continued lip service about "our beautiful Second Amendment" followed by his deliberate indifference and even support for outright infringements serves only to demoralize gun owners, which in turn serves the purposes of ban-whatever-he-can Joe Biden. But the fact is, rumblings on this brace nonsense started over a year ago, and the buck for it stops squarely at the president's desk. We know he's not a "gun guy," but he needs to listen to those who are, and I'm not talking about prop marriages of political convenience or do-nothing "advisory boards" designed to pander to the gun vote, but a genuine "cabinet" of serious advocates who will actually have his ear and who he will subordinate his presumptions for and listen to.
"I'm going to surround myself only with the best and most serious people. We want top of the line professionals," Trump famously pledged in his first campaign. We're certainly not seeing it at ATF, where the bureaucrats have either taken it on themselves to act like their inconsistent rulings are immutable law subject to no oversight. His one attempt to bring "leadership" to the bureau via a "permanent" director resulted in the wholly unacceptable (to gun owners) Kenneth Charles Canterbury, Jr., the former head of the Fraternal Order of Police who supports nationwide concealed carry for retied cops but opposes it for "ordinary citizens," and supported Sonia Sotomayor and Eric Holder. Unsurprisingly, and that fact ought to outrage the hell out of us, then NRA-ILA head Chris Cox ran cover for Canterbury in a softball "interview," highlighting the nominee's fraudulent contention that "I take a back seat to no one in my reverence for the Second Amendment."
The reality remains, in the last 3 ½ years we never got any "best people" in the BATFE Technology Branch, NFA Branch, Imports Branch, or even a chief unlike Canterbury, who could and would roll back anti-gun interpretations and policies without Congressional approval (like constructive possession/intent, multiple NFA dealer samples issues, multiple dealer inspection issues, import issues, etc.).
Well, he has been kind of busy, apologists will counter. No doubt. But if you actually understand the Second Amendment and its core purpose, you'll understand it is "necessary to the security of a free State." There is no more important priority, even if most Americans have been conditioned into not knowing that.
"A rumor appears to have been verified as fact last night … as firearms Attorney Joshua Prince posted on Instagram that his sources have informed him that the BATFE will be issuing a statement regarding pistol arm braces at the request of President Trump," Firearms News reported in August 2019. "[He] has been proving himself to be one of the most anti-2nd Amendment presidents in the last 50 years with the emperor-like push of his bump stock ban, his support of over 21-gun purchase legislation, his obvious lack of understanding the 2nd Amendment, his ignoring of gun control laws which passed in the last two years in [the states] (without an effortless tweet in opposition), support for soviet-esque red flag laws … and his statement that he does not like silencers."
Firearms News reported again in June of this year, citing previous ATF's previous determination that that "the attachment of arm braces to large pistol platforms does not constitute the manufacture of a short-barreled rifle," citing Rep. Matt Gaetz's letter to Attorney General William Barr and ATF Acting Director Regina Lombardo, co-signed by Republican Reps. Neal P. Dunn, Bill Posey, W. Gregory Steube, John Rutherford, Ted S. Yoho, and Daniel Webster.
"Unbeknownst to the general public, ATF has ordained in private determination letters that it considers 'any firearm with a length of pull over 13-1/2 inches to be designed to be fired from the shoulder,' thereby making it a short-barreled rifle," the Gaetz letter observed. "However, ATF has also privately proclaimed that even firearms under this length of pull can be classified as a short-barreled rifle, if ATF identifies other (and often unspecified) applicable 'indicators.'"
"Even more troubling are reports that these non-public standards are being used to criminally prosecute unsuspecting gun owners. Given ATF's refusal to explain these standards, it is impossible for the public to comply with ATF's ever-changing body of secret law," Gaetz continued. "To criminally charge an individual or threaten a company based on one ATF employee's opinion of whether an arm brace shares enough unpublished 'design features' with a shoulder stock is an appalling abuse of power and shows a blatant disregard for due process."
More Questions Than Answers
Knowing he possessed much personal knowledge of dealing with ATF, I approached friend and colleague, firearms designer Len Savage, president of Historic Arms, LLC, and asked him to share some of his relevant experience and insights with Firearms News Readers. What he tells us is not only instructive, but may hold a key to putting the heat back where it belongs, squarely on ATF:
"I submitted a product two years ago and never heard from ATF," Savage recalls. "I subsequently submitted a Freedom of Information Act Request (FOIA) through my attorney for all submission samples over 18 months unresolved at ATF and I received some 250-plus pages that were sent to Representative Gaetz's Chief of Staff, Jillian Layne Wyatt, 48 hours after the congressman sent the letter to ATF (they appear to have responded to his request not mine).
"I can tell you ATF has documented the fact they have not processed industry submissions and are NOT providing guidance to be compliant to the NFA and GCA, but are however more than willing to threaten to prosecute when something is not compliant,"  Savage observes. "They are in effect saying 'We won't tell you what's legal, but we will be more than happy to bust you.'
"As to the Honey Badger Issue specifically: Why is a field office making national policy for ATF and why was this not a release from HQ or Firearms Enforcement Programs?" Savage questions. "Has anyone asked for 'Correspondence Approval and Clearance Form' (ATF form 9310.3A)?
"It will have every ATF official who signed off on this nonsense...Perhaps somebody should ask to see it?" he continues. "Also, there should also be a 'ATF Report of Technical Examination' (ATF form 3311.2)?
"This form should be the basis of any determination and if there is not one to support the 'Correspondence Approval and Clearance Form,' well them somebody made this up out of whole cloth and those somebodies signed off on it before it was sent out," Savage concludes. "It not hard to find out, it's getting anybody to give a damn."
The Shape of Things to Come?
So where do we go from here? So far, similar "cease and desist" orders by ATF to other companies making similar brace products have not been reported, Q's Kevin Brittingham told "gun rights" activist, lawyer, and web series host Colion Noir in an Oct. 7 YouTube video. They have not yet received further direction from ATF in answer to their letter – in fact, he claims ATF is refusing to respond in writing and NRA has apparently stepped back its efforts because they don't want to "offend" the president. There is, however, a more immediate concern, one Brittingham recalled in closing:
"When I told my son, he's about to turn 17, we were going public, you know what he said to me? 'Don't let 'em turn our house onto Ruby Ridge or Waco.'"
Don't let them. And don't let them turn the land of the Second Amendment into the land of capricious bureaucratic gun grabs.
By all means, fill out the NRA and GOA forms, and it wouldn't hurt to contact Donald Trump on your own via the White House website or his @realDonaldTrump Twitter account and tell him you're a gun-owning voter and you expect him to put a halt to this nonsense and stop taking fire out of our bellies this close to the election.